Many Existing Homes in Wisconsin have problems relate to moisture, condensation, drafty rooms, ice dams, mold, and high utility bills.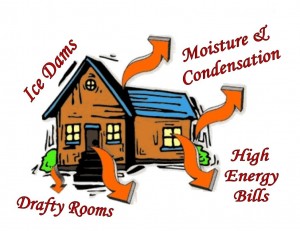 A Home Performance Evaluation  includes the following:
Blower Door Air Leakage Test
Building Shell Analysis
Infrared Camera Scan
Carbon Monoxide Testing
Mechanical & Ventilation Inspection and Testing
Comprehensive report with recommendations listed in order of cost effectiveness
A list of recommended contractors that are certified by Focus on Energy
Free consultation with the selected contractor and/or "do it yourself" homeowner
Information on Focus on Energy cash rewards that may apply to your home
Information on Energy Tax Credits that may apply to your home
 The testing and measuring of the home is approximately a 3-4 hour process.  Most homeowners want to be present during the testing, although it is not required.  It is an educational experience for most people.
Cost of a Home Energy Evaluation is $400.  This price may vary slightly depending on size and complexity of the home. Please call (608)335-4022 to discuss the specific details of your home, or to schedule an appointment.